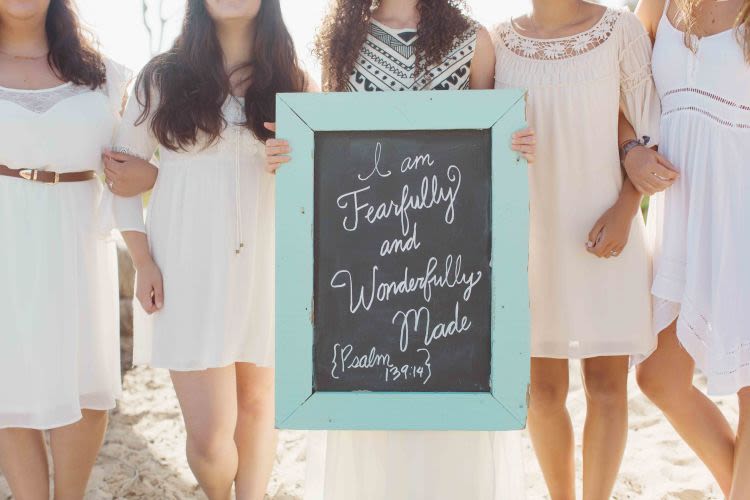 Wonderfully Made is a voice of love and truth to today's generation of teenage girls and women. We exist to share the truth about your value and worth. To spread the simple, life-changing message that you are not an accident — that you have been fearfully or lovingly and wonderfully made by God for a unique purpose.
We are a Christian based 501(c)3 nonprofit organization dedicated to helping today's young women discover, strengthen, and reclaim their true value and worth. Through our conferences, films, Bible studies and online community it is our desire to see our generation of girls and women rise up and live healthy, whole lives of lasting purpose, beauty and worth. We are addressing the difficult issues than young girls and women are facing on a daily basis, utilizing the Bible and its messages to promote community, healing, and hope.
The Issues:
Only 2% of today's young women describe themselves as beautiful
Up to 20% of girls age 10-19 are experiencing episodes of major depression
1 in 3 girls are sexually abused by the time they're 18
Over 10 million women in the U.S. are facing a life or death battle with an eating disorder
3 out of 4 American women struggle with disordered eating
The prevalence of self-injury among teenage girls and young women is rising dramatically.
1 in 3 teens, 33%, experience abuse in their romantic relationships, including verbal and emotional abuse, physical or sexual abuse.
Approximately 100,000 American girls are entering into prostitution each year
Prefer to mail in your donation? No problem! You can send checks to Wonderfully Made at PO Box 129, Buellton, CA 93427.