Help those who are helping others during the COVID-19 crisis in the Pennridge area.

The Pennridge Community Recovery Fund (a registered 501(c)(3) charity) serves the municipalities that comprise the Pennridge School District region in southeastern Pennsylvania and seeks to aid local non-profits and charities providing services on the front line of the fight against Covid-19 and our region's recovery from it.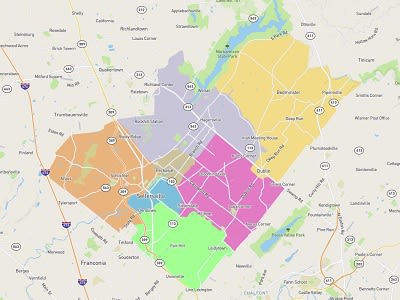 Bedminster | Dublin | East Rockhill | Hilltown | Perkasie | Sellersville | Silverdale | West Rockhill

OUR MISSION
What is the Fund?

Our goal is to raise money for the Pennridge community to fund charities that provide food security, shelter, public safety, counseling, and social services to a community of approximately 50,000 residents. We also partner with local businesses and organizations to provide disposable face masks to those who support our mission. We are a non-profit corporation registered in the Commonwealth of Pennsylvania not associated with the Pennridge School District. The Fund is also registered as a non-profit and charitable 501(c)(3) organization with the Internal Revenue Service.
DONATIONS

We seek funding in any amount from individuals, foundations, non-government organizations, and government sources, to be redistributed within the Pennridge community based on applications considered by Fund's board of directors after review by a separate panel. The Fund's mission requires the disbursements to have a connection to the COVID-19 crisis.

GIVE ONLINE

Our Fund uses Chase's WePay service as part of BetterUnite, a leading digital fundraising platform. When you donate online, you have the option to pay the bank transaction and BetterUnite platform fees as part of your gift, so 100% of your gift goes to local charitable causes. If not, the Fund will pay standard credit card processing fees of 2.9%+30c required by the payment processors and a small platform-use fee.
For example, for a $50 online donation, there is a 5% optional tip to BetterUnite for providing a free service to the Fund and $1.82 card processing fee. Your gift would be $54.32 if you pick up the fees.
Because BetterUnite provides free monthly direct services to the Fund, picking up those fees allows us to save $2,400 a year that we can give to local charities.
OR GIVE BY CHECK

If you want to give via mail, you can print out a form to send us a check. Here is a link to print a donation form:
https://pennridgefund.org/wp-content/uploads/2020/05/The-Pennridge-Community-Recovery-Fund-Form-1.pdf
Our address is:

Pennridge Community Recovery Fund
Box 96
620 West Chestnut Street
Perkasie, PA 18944

For information about ACH transfers, contact us at scott@pennridgefund.org.

Can I take a tax deduction for my donation?

The Fund is currently registered as a non-profit and charitable 501(c)(3) organization with the Internal Revenue Service. The Fund will send you a receipt for your gift but you should check with your accountant or adviser if you have tax questions about deductions.
FUNDING REQUESTS
Details on how much and when non-profits and charities might request funding will be announced at a later date, once donations have begun to accumulate in the Fund. Grants are made on a rolling basis. As fundraising continues through the outbreak and recovery phases of the crisis, the Fund will adapt to emerging needs as the situation evolves.