Austin Youth River Watch
Who We Are
Austin Youth River Watch transforms and inspires underserved high school students through a nature-based, experiential, and service-oriented afterschool and summer program in environmental science. We provide a safe place for teenagers to grow and gain confidence while experiencing outdoor adventures and learning to be active stewards of our planet. Through our program, students become local environmental heroes, gain leadership and collaborative skills in interdisciplinary settings, and have transformative experiences that they carry on with them for the rest of their lives.
What We Do
Our students, the "River Watchers," collect, analyze, and publish water-quality data from 27 different sites along local waterways. River Watchers learn from our staff of professional educators and peer mentors how to perform detailed scientific procedures for monitoring everything from pH and water temperature, to complex pollution indicators such as dissolved oxygen and E. coli concentration. Through their data collection activities, River Watchers have often been the first to detect harmful irregularities in our creeks, and local authorities have become aware of such irregularities because of their work. Many River Watchers stay with us throughout high school and become formal peer mentors in their 2nd year. Developing this sense of community and peer mentorship has been key to helping students overcome personal and academic obstacles as they work toward graduation.
In conjunction with water quality testing, our students regularly perform restoration projects to actively improve the health of our watersheds, improve water quality, and increase water quantity. Projects include activities such as planting deep-rooted native grasses or riparian trees, removing invasive plant species, building rain gardens, trail maintenance, and creek cleanups. River Watchers learn about the process of community problem-solving by working on real-world environmental issues and projects with local partners, and gain insights into various types of environmental careers through this work. Our students also participate in several outdoor experience activities throughout the year, such as camping, canoeing, and caving, often for the first time. These experiences provide our youth with a positive connection to the outdoors and foster a deep appreciation for the natural world around them.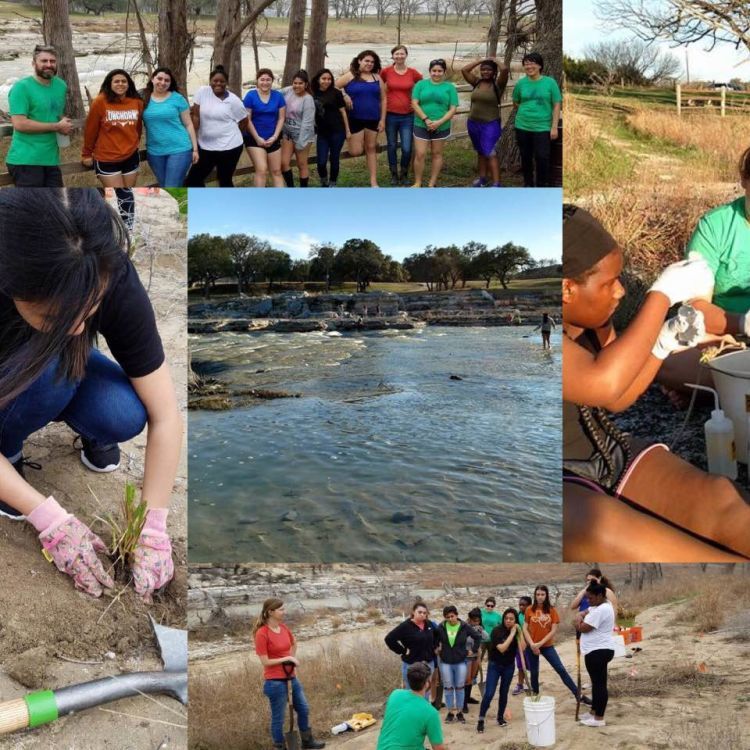 Who We Serve
Our program is intentionally designed to be accessible to youth in underserved communities who have less access to resources, especially high quality STEM or outdoor programming. We currently serve about 120 students each year from 10 local public high schools in the Austin area. Nearly all our River Watchers are defined as "at-risk" by Texas Education Agency Code, which means they are "at-risk" of not graduating. Most of our program participants are economically disadvantaged (71%), and 93% of our students come from ethnic minority backgrounds.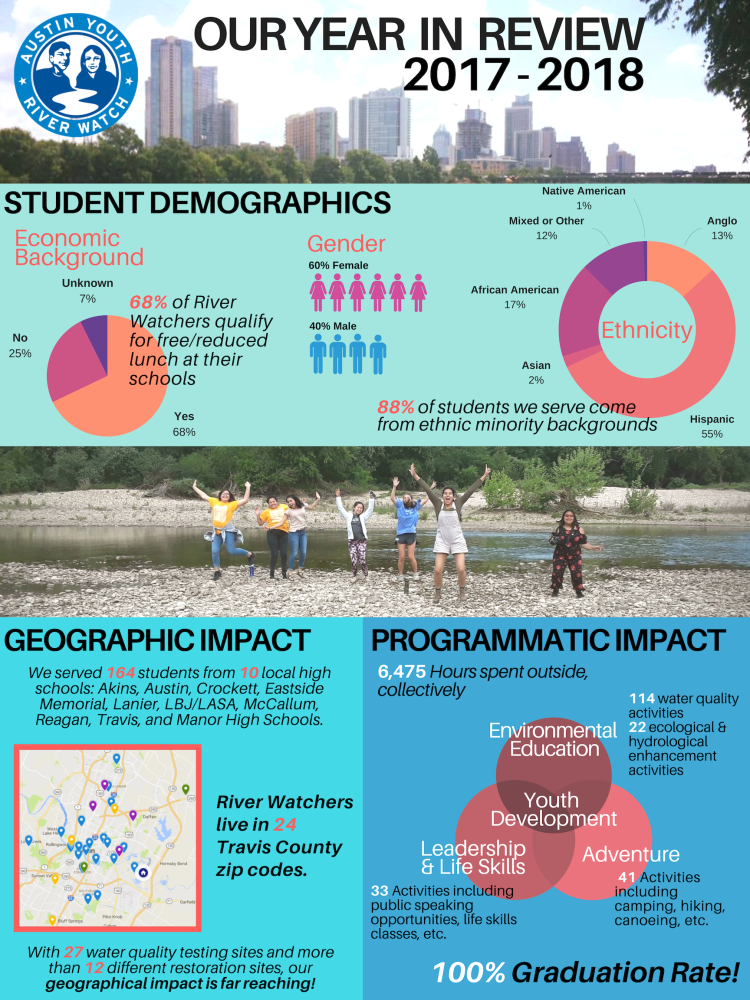 In order to retain this population and best serve their needs we provide: full transportation, often the #1 barrier for the underserved; healthy food, to alleviate nutrition access issues; and modest participation stipends, to better enable those who have to work afterschool to help support their household to be in our educational program.
Our Impact
Every year, Austin Youth River Watch transforms and inspires 120 high-school students through environmental education, community engagement, and adventure. As a result of our work, youth are better prepared to create positive outcomes for themselves and environmental conditions are improved, ensuring a better future for all.
Not all River Watchers come into the program confident in their scientific skills or knowledge, nor do all of them come to us with initial interests in STEM. Yet after one year of participation, 97% report greater knowledge of environmental issues, 89% say they are more aware of the choices they make, 89% report greater confidence with science, and 86% learned about new environmental and STEM careers. Since our founding in 1992, nearly 100% of our students have graduated high school. 60% of our most recent graduating seniors have chosen to pursue STEM fields. Students report that having their River Watch "family" are among the most important things helping them feel motivated to stay in school and pursue their goals.
In this video below, one of our recent graduates shares what River Watch means to him.
Our students lead the way in understanding and improving our local watersheds, local streams, and favorite swimming holes. These are our planet's future stewards. Your contribution will not only invest in our important environmental work, but also the lives of our underserved youth!