We are looking forward to a great event and we hope that everyone who enjoys golf will come out for an awesome time!
NEW THIS YEAR:
Men (75+) play GREEN TEES
Men (60-74) play WHITE TEES
Men (50-59) play BLUE TEES
Under 50 Men play BRONZE TEES
Women--GREEN TEES
The last three years we have had 100% to capacity and I expect the same in 2021. We are excited to see a lot of familiar faces and maybe some new ones too. We are ALWAYS looking for more generous Hole Sponsors. If interested, please send us a logo and 1-2 paragraphs about your company (or "why you support" if sponsoring as an individual). See some of the supporters from the last couple years pictured below.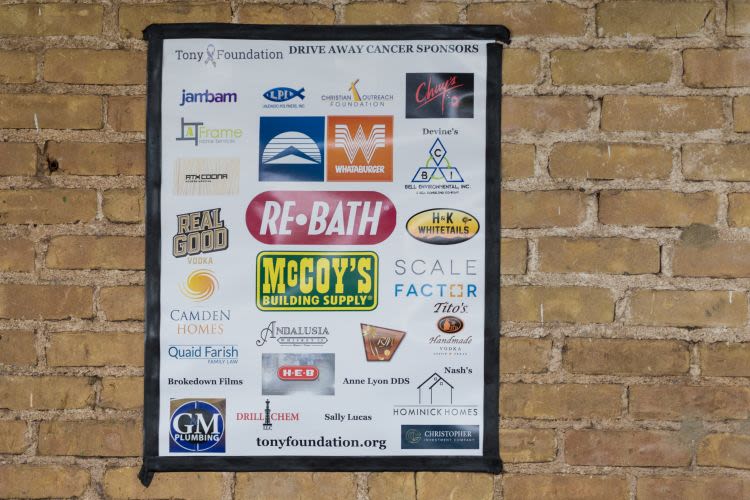 All proceeds benefit Tony Foundation, helping to meet immediate needs for families who have a household income earner impacted by cancer.
We want to thank TrulyMeID and all of the generous sponsors who signed up last year to support Drive Away Cancer:
Gold Sponsor
TrulyMeID

Silver Sponsors
Bell Enviro
Camden Homes
Clear Choice Automotive
Energy Tubulars
Hominick Homes
Laudadio Polymers
LPS Green Technologies
McCoy's Building Supply
Phoenix Exteriors
Tito's Vodka

Hole Sponsors
Cade Colston Family
Green Collar Operations
Chuck Greenlee Law
Kristine Devine Family
Quiad Farish LLC
Ricky Herrera Family
Law Office of Cyndi Rusnak
D-Ric & Joe Maggz

Beverage Sponsors
Andalusia Whiskey
JamBam
Zen Pool Studios

Gift Bag Sponsors
David Davis Family

We are ALWAYS looking for more generous Hole Sponsors. If interested, please contact us for more information. We can't wait to see everyone on Sept. 25!
ATTENTION GOLFERS!

SPECIAL RULES & INFORMATION
1. Please check-in outside the clubhouse and be in your carts by 9:45am
2. ShadowGlen has limited golf carts; only enough to provide 2 per team
3. Have fun!
4. Tony Foundation Gift bags will be in everyone's cart baskets when you arrive.
5. Bogey is your friend. If you miss your par, please pick up and go to next hole.
6. Long drives need to be in fairway; Closest to pin awards have to be on the green.
7. Super Senior Men (60+) play WHITE, Senior Men (50+-59) play BLUE, Under 50 Men play BRONZE tees; Women--(GREEN)
8. Please Turn in scorecards to the proshop after round.
9. 2 Beverage carts will also be serving beverages. Please support them with tips. (Not TF affiliated)
10. 1 Raffle cart will be making the rounds on the course selling tix for vacation rentals.
11. Silent auction w/ awesome memorabilia available, TF Swag, and Bloody Mary booth held on #9 tee box-. Please visit, bid, and support to help TF mission.
12. Remember cash- we also have PayPal, Venmo, and Text to Donate methods
13. The awards ceremony will be performed at 6pm in the evening at the pavillion.
AWARDS
Men's Long Drives: 4 & 9
Women's Long drives : 2 & 12
Men's Closest to Pin holes: 8, 15, & 17
Women's Closest to Pin holes: 8 ,15, & 17 (same as Men)
1st place Mixed & 1st place Women's Team (Tiebreakers- #1 handicap hole, #2, etc)
Have a great time and thank you for your continued support of our mission!
Tonyfoundation.org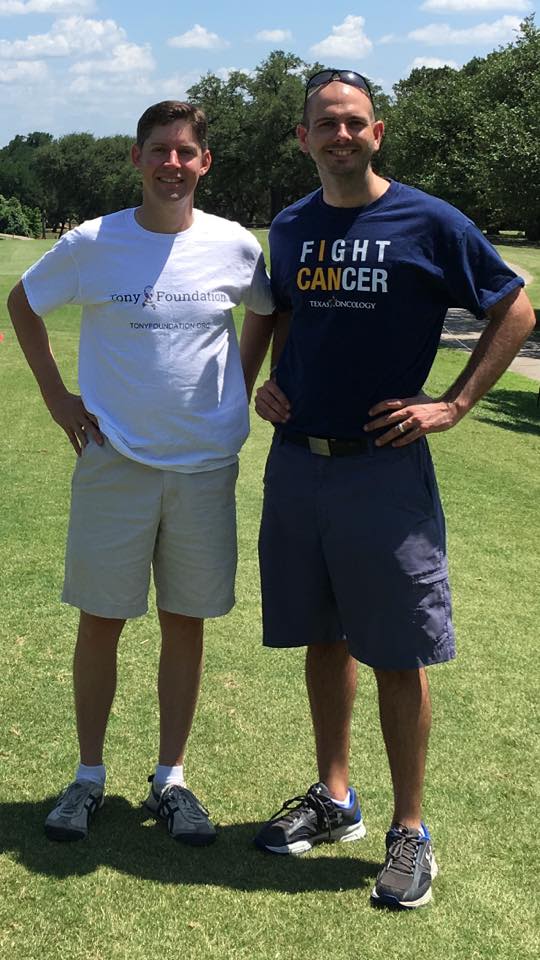 .
For questions about sponsorship opportunites or any other information, please contact us at info@tonyfoundation.org