One of the things that has been extremely grounding for me in the chaos of 2020 is the opportunity Merivis has given me to serve some very deserving and determined Veterans and Vet Spouses who are working hard to gain the skills needed for a career in technology. A recently retired Colonal, a former Sergant in the Marines, another Army vet who served in Vietnam, a Navy wife, an Airman.....the list could go on an on with incredible people I've gotten to meet this year over Zoom or a phonecall. We've celebrated new jobs, internships, certifications, and more lightbulbs going off than I can count. We've talked through another resume sent into the void, an interview that didn't go so well, a failed test, technical concepts that just aren't clicking, and just how we're all holding up in crazy times. These folks all served us, and it has been a huge honor to get to be a part of helping them transition to another career in an especially hard year.
This Veteran's Day, please consider donating to help more of these vets and vet spouse with their career transitions. This year, I'm matching $50 of the first 5 donations of $50 or more from you. Each of my matches will be in honor of one of the amazing Merivis community members I've worked with this year.
A little bit about Merivis:
Merivis supports veterans preparing for their next missions through training, mentorship and job readiness for Salesforce cloud technology positions. With a growing need for Salesforce certified professionals and an increasing number of underemployed veterans in the country, we bridge the gap to help veterans transition to civilian life and find great careers. Since we started in 2015, Merivis has impacted the lives of nearly 300 military veterans by supporting them in their transition to civilian careers. Through our technology training programs, we've put them on the path to growing, in-demand technology roles and we couldn't have done it without every member of the Merivis community.
Your generous contribution in honor of Veterans Day allows us to continue to offer our workforce development programs and help connect our country's service men and women to technology careers.
Donate to one of our graduates below - each of them has committed to raise funds for Merivis as a way to pay it forward and help more veterans and milspouses successfully transition after service. Many of them are first time fundraisers and your generous support will help them reach their goal.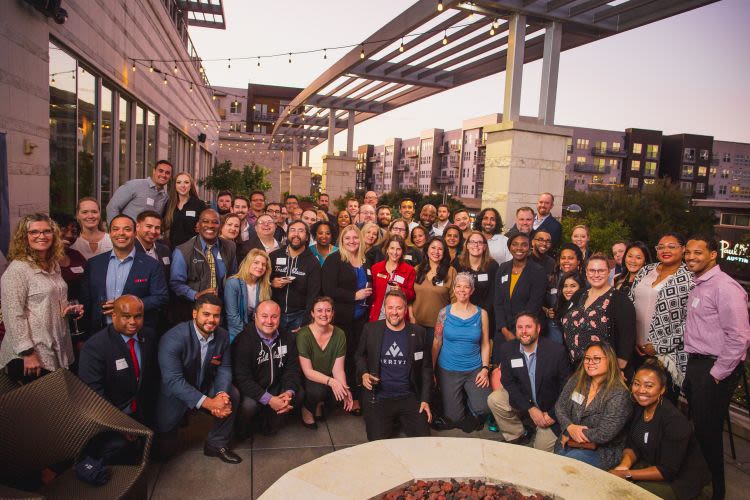 October 2019 Merivis Mixer in Austin, Texas