Why JAWS? Because in this extraordinary time, journalism is more essential than ever. JAWS -- the Journalism and Women Symposium -- has been around for more than 30 years, supporting the professional empowerment and personal growth of women in journalism and working toward a more accurate portrayal of the whole society.
In 2020, we're reinvigorating our work in so many ways: delivering monthly webinars & online social hours ... offering reduced-rate training … preparing an industry-leading diversity, equity & inclusion initiative … planning our annual gathering at CAMP (with online access) … offering fellowships ... partnering with other journalism affinity groups to advocate for journalists under fire … and envisioning still more efforts to fortify women in journalism.
With your donation, we'll send her a Mother's Day note about your contribution, explaining that you're recognizing her by supporting women journalists at every stage in their careers. And if you wish, we'll add a shout-out on social media, celebrating her -- and kickass women in journalism.
After you select your donation amount, you will be able to enter the name and email address (if applicable) of the woman you are honoring, so we can let her know. She could be your mama, your sister, your auntie, your colleague, your mentor, or your friend. If you wish, add a message of up to 100 characters that we can use to celebrate her on social media.
We will email notice of your contribution as soon as we receive your donation, and release the social media shout-out on Mother's Day.
_____________________________________
More about JAWS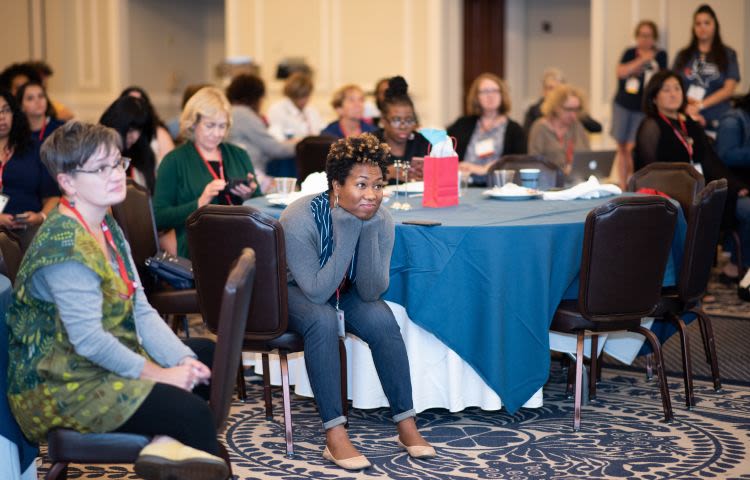 JAWS has been the meeting ground for journalism dream teams, the fuel for gutsy career moves and one of the few spaces where women can bring their full, authentic selves to conversations about the journalism industry.

At our annual Conference and Mentoring Project (CAMP), through regional meet-ups across the United States and through webinars and virtual conversation spaces, countless women have found the courage to break into journalism and the resilience to stick with it, all while forming lifelong friendships that enriched them personally and professionally.
We need your help more than ever this year, to support women journalists at every stage in her career and sustain our fellowship program, which provides training and connections to emerging and mid-career women journalists.

Honor a woman you respect by sustaining women in a career dedicated to delivering the truth and safeguarding democracy. And thank you for all you do.