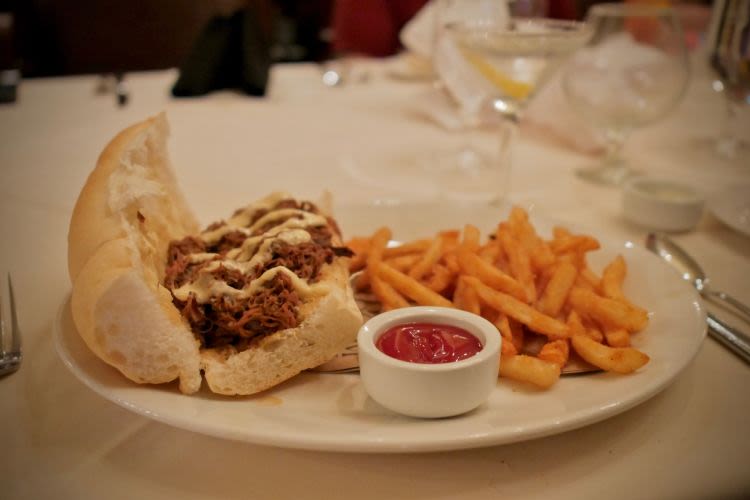 Our group lunches are an excellent opportunity to try a new restaurant and spend some time with a few new friends.
The Rib Room at the Omni Royal New Orleans is an excellent restaurant and this lunch will enable you to try a twist on Troy's favorite, the Prime Rib Debris Po Boy - new for this year, a Prime Rib Debris Grilled Cheese !
Pair your lunch with a martini (or three!) or a glass of iced tea or lemonade!
Lunch Menu
Choice of Appetizer
Buttermilk Fried Artichoke Hearts: shaved parmesan, crispy basil, lemon caper aioli
Pressed Watermelon Salad: baby arugala, feta cheese, roasted chilies, pickled red onions, virgin olive oil, infused orange-pepper vinegar
House Cured Smoked Salmon: baby arugula, pickled red onion, conichons, caviar, chive cream cheese, brioche toast points
Choice of Main
Ahi Tuna Salad Bowl: coriander seared ahi tuna, seasme slaw, crispy cilantro wontons, charred lime, ginger soy vinaigrette
Frog Legs Amandine: pan seared frog legs, rosemary garlic French bread, toasted almond beurre noisette
Prime Rib Debris Grilled Cheese: buttered brioche, prime rib debris, swiss cheese, horseradish aioli, sweet potato fries, lime salt
Choice of non alcoholic beverages.
Alcoholic beverages available at diners own cost.
Price: $37 includes tax and gratuity