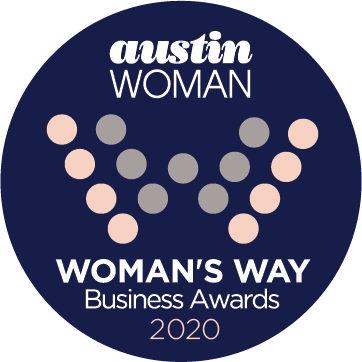 Austin Woman magazine has been celebrating women for nearly 18 years and Woman's Way Business Awards is an opportunity to recognize, support and promote Austin's top female leaders. The Woman's Way awards are Austin's only business awards for woman-owned and woman-led businesses. Awards are presented in 10 categories, span numerous industries and are chosen by a selection committee of successful, local female business owners and community leaders.
In order to ensure your safety while celebrating these amazing leaders, our Woman's Way Business Awards will be fully virtual this year! Our sister company, On The Dot, has a robust digital, interactive networking and mentorship platform where we'll be bringing you amazing content, fun vendor workshops, virtual networking, an inspiring keynote and the awards ceremony.
So, leave your sweatpants on, grab a cocktail or mocktail and join us for the 5th Annual Woman's Way Business Awards!
DETAILS
How it works:
A few days before the event, you will receive an invitation to the platform for you to set up your account. On the day of the event, simply log in to your account and all links to the live portions of the event will be on your personalized dashboard. Additionally, you'll be able to check our amazing sponsor pages and vendor marketplace full of custom content created for you, plus, most importantly, connect with other members of the curated networking group you have been assigned. You can begin building connections with any event attendee by simply reviewing their profile and using the built-in messaging system to connect.
The best part is that the networking doesn't end the night of the event! Your membership to the platform is for a full year, giving you plenty of time to get to know everyone on the site and offer up your amazing skills for mentorship, or find the exact advice you need to make the next career move.
Day-of Schedule:
5 p.m. Virtual Marketplace Shopping and Vendor Connection
6 p.m. Welcome address by Austin Woman Founder Melinda Garvey
6:15pm Live Sponsor Experience I
6:45pm First Half of Awards
7:15pm Break
7:20pm Live Sponsor Experience II
7:45pm Second Half of Awards
8:15pm Live Fireside Chat with Entrepreneur and Actress Brooklyn Decker
8:45pm Live Mentor + Networking Session
9:30pm Event Ends
What Your Ticket Includes:
Access to the live Woman's Way Business Awards ceremony, virtual marketplace during and post-event, swag from local sponsors*, a curated networking group with 15 to 20 women based on your interests, needs and career goals, and a one-year subscription to the On The Dot platform to build your network with hundreds of leaders in Austin.
*VIP ticket level only. Swag bags include celebratory bubbles and sweets plus a custom face mask for your safety after the event and tons of perks and goodies from local brands.
Swag bags sponsors: Benold's Jewelers, CareFor, Cherie Matthews/healincomfort.com, Cisco, City of Austin Small Business Program, LBJ Library, Lisa J Makeup, Mediators and Arbitrators of America, re-3D, Smokey Denmark, Twin Liquors, Uncle Ray's Peanut Brittle, Urban Betty, WP Engine
KEYNOTE: A CANDID CONVERSATION ON EQUITY & ALLYSHIP WITH BROOKLYN DECKER & ADA-RENEE JOHNSON
GIVEAWAYS
Get your raffle tickets to be entered to win one of many giveaways through out the eventing!
Giveaway items include:
A piece from Kendra Scott
$75 giftcard to Tiff's Treats
Pizza Party from Bola Pizza
Signed Seeing Red book, three months of Brazen products and a 90-minute consultation from Brazen
One-on-one coaching session package (valued at $2,500) from Robi Emmerich
Full set of makeup brushes (value of $350) from Lisa J Makeup
& MORE!
2020 AWARD CATEGORIES:
HEALTH & WELLNESS presented by Tru-Skin Dematology
PROFESSIONAL SERVICES presented by Cisco
PRODUCT INNOVATION presented by On the Dot Diversity
MAKER presented by Twin Liquors
STEM presented by Dell
ENGINE FOR GOOD presented by WP Engine
RISING STAR presented by H-E-B
BUSINESS TO WATCH (UNDER $3M) presented by Roger Beasley Mazda
BUSINESS TO WATCH (OVER $3M) presented by Bank of America
I AM AUSTIN WOMAN presented by Austin Woman