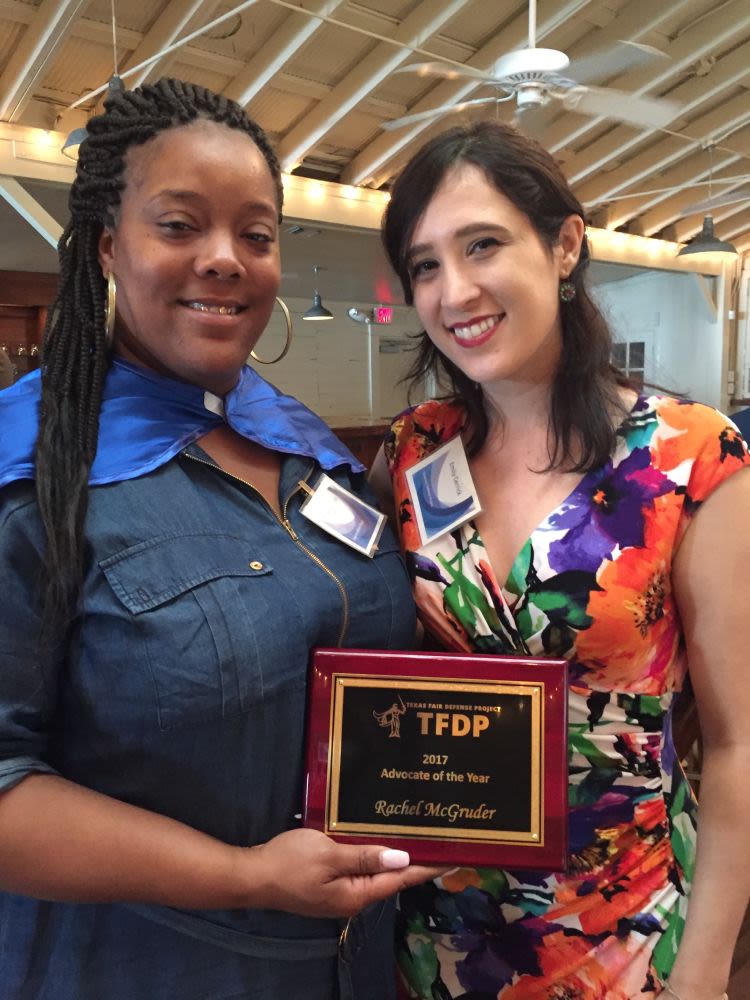 Staff Attorney Emily Gerrick with Rachel McGruder, a former client and our 2017 Advocate of the Year

In September 2017, police arrested Willie Tyler Jr., for failing to pay his traffic tickets. The father of five, whose family lives below the poverty line, was ordered by the Waco Municipal Judge to stay in jail for 30 days to "sit out" his court fees. While Mr. Tyler sat in jail, his wife lost her job because she had to stay home to care for their hemophiliac infant, and Mr. Tyler lost his own job. The Tyler family's nightmare ended when a staff attorney from the Texas Fair Defense Project secured his release a week into his jail stay. Mr. Tyler returned to his family and, because of TFDP's work, his family is now rebuilding their lives.
We rely upon financial support from friends like you to do this work. Our work has made a significant difference for the lives of poor and working-class Texans, but without your help we cannot continue our fight.
Ending the Cycle of Poverty
There are hundreds of people such as Mr. Tyler across Texas who are jailed because they could not pay their tickets. Thousands more face the threat of arrest every day for unpaid tickets, and hundreds of thousands of Texas drivers cannot obtain a driver's license because of such tickets.
TFDP works to end debtor's prisons and to help people who are trapped by the cycle of debt perpetuated by the criminal justice system. Every day, TFDP attorneys help people who cannot afford to pay Class C misdemeanor tickets, most of which are traffic violations. TFDP also investigates court practices, advocates for policy change at the court and city level, pursues impact litigation, and works with lawmakers to change state and local laws so that they are more fair to and protective of low-income Texans who are involved with the criminal justice system.
Fighting to End Wealth-Based Detention
Tens of thousands of people in Texas sit in jail pretrial, although they have not yet been convicted of a crime, because they cannot afford to pay the money bond set by the court. TFDP is actively working to end this unconstitutional practice. Our biggest accomplishment to date occurred in Harris County this year.
In May 2016, police stopped twenty-two-year-old Maranda ODonnell in Harris County while she drove to her mother's home to pick up her four-year-old daughter. The police arrested Ms. ODonnell for driving with an invalid license; she was held on a $2,500 bond. Ms. ODonnell could not afford the bond and was worried that she would lose her new waitressing job if she stayed in jail for days. Ms. ODonnell filed a lawsuit alleging that Harris County's money bail system violates the Constitution by holding people in jail because they are poor, not because they are a flight risk or a public safety concern.
TFDP proudly represented Ms. ODonnell in federal court, alongside co-counsel Civil Rights Corps and Susman Godfrey. In May 2017, the federal court issued an injunction requiring Harris County to release people arrested on misdemeanor charges otherwise eligible for release with a bond amount they can afford or on a personal bond if they cannot afford any amount. Since TFDP's court victory in May, Harris County has released thousands of people pretrial due to the injunction.
In addition to impact litigation such as Ms. ODonnell's case, TFDP has advocated for bail reform in the Texas Legislature and in Texas counties.
Victory in Our Own Back Yard
TFDP is working with other Austin-based advocates to help people in the Austin area escape the cycle of poverty perpetuated by criminal legal debt. This past year, we worked with local advocates and Austin City Council to pass an ordinance that will ensure the Austin Municipal Court provides more opportunities for people to take care of their tickets before falling into an inescapable cycle of debt and jail.
TFDP has organized community clinics in Austin to help people resolve outstanding traffic tickets and DPS surcharges so they can recover their driver's licenses. We have also partnered with Volunteer Legal Services in Austin to train pro bono attorneys for Class C case representation. We have referred 53 people to those attorneys in 2017.
In 2017, our staff attorneys have represented 60 clients in Austin and the surrounding areas who had tickets they could not afford to pay, helped more than a dozen people secure a driver's license or an occupational driver's license, and advised dozens more about how to complete that process. There are still hundreds of people in the Austin area alone, who still need this help.
We Can't Do It without You
All Texans, regardless of economic means, deserve a criminal legal system that is fair. Please help the Texas Fair Defense Project continue the fight in 2018! Thank you for your support.