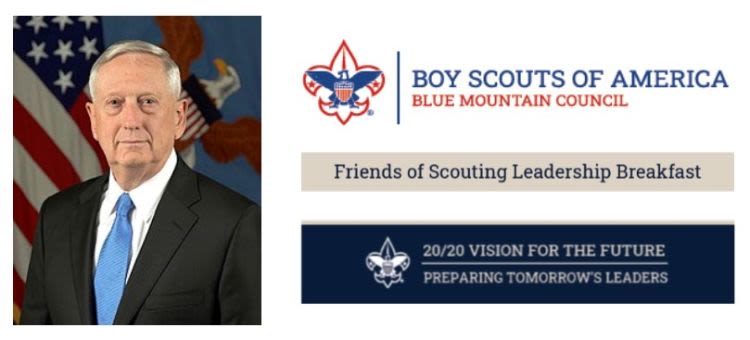 Our 9th Annual Friends of Scouting Leadership Breakfast will feature as keynote speaker former Secretary of Defense, General James N. Mattis.
A dedicated patriot, intellectual, and strategist, former Secretary of Defense and retired Marine General James N. Mattis exemplifies principled leadership in times of turbulence. One of the preeminent leaders of his generation, Gen James Mattis has spent nearly 50 years in the service of his country. Renowned for his diligent study of war, and his dogged efforts on the battlefield, Gen Mattis is described as a principled commander who isn't afraid to tell it like it is.
Also during the event, two special guests, Ed Ray and George Garlick, will be awarded the prestigious North Star Award for their years of service and commitment to youth in our community.
All funds and donations collected at this event will be used to build brave, confident leaders for tomorrow throughout southeastern Washington and northeastern Oregon.
Reserve your link today, and contact Jay Scott at 509-735-7306 with any questions.
Please plan to log-in early as the event will begin promptly at 7:30am.